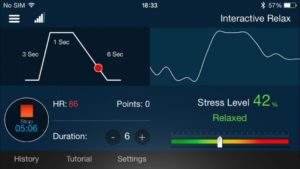 Serenita, a personalized mobile solution for Android and iOS from Eco-Fusion, measures your stress levels and helps you manage stress throughout the day with a tailored five-minute relaxation exercise.
The award-winning app acquires data from your finger by turning the mobile phone's camera into a biomedical sensor (PPG), and uses it to peer into your bloodstream to find biomedical markers regarding heart rate, heart rate variability and blood flow. The data is processed to assess your stress and focus level.
If elevated stress is detected, Serenita guides you through a personalized Interactive breathing exercise designed to turns on the body's natural "rest and digest" response and turn off the production of stress hormones like adrenaline and cortisol. You can see in real-time how the exercise affects your stress/focus level and track past results.
The science embedded into Serenita's app is based upon years of clinical studies and research.
"The app solves two very important and hard-to-crack problems," said Abe Carmeli, Eco-Fusion's CEO. "The first is accurately measuring stress, using nothing but a smart phone. The second is effective treatment in a very short time, which can be performed anywhere and does not require prior training."
Oren Fuerst, who founded digital therapeutics company Eco-Fusion in 2013, adds that although yoga and meditation are both great for stress reduction, most stressed people do not practice them.
"With Serenita we wanted to provide 'bite-size treatment' that would be too easy and too effective to say 'no' to. Because Serenita reads the user's biometric data in real time, it can provide the most effective stress reduction exercise per minute spent."
The company has offices in New York and Tel Aviv.