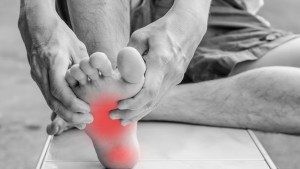 Among the serious complications of diabetes for some 130 million individuals worldwide is diabetic neuropathy, a type of nerve damage associated with foot ulcers resulting from anatomical deformation, excessive pressure and poor blood supply. This condition is the leading cause of amputation.
Though regular checkups are helpful in monitoring pressure and ulceration, the ideal scenario would be to stop ulcers from developing in the first place.
Members of the BioDesign: Medical Innovation program,  created by the Hebrew University of Jerusalem and its affiliated Hadassah Medical Center, recently introduced their answer to the problem: SenseGO, a machine-washable sock containing dozens of micro-fabricated pressure sensors.
When a person with diabetes wears SenseGO socks, changes in pressure due to incorrect posture, anatomical deformation or ill-fitting shoes are registered as electrical signals that are relayed to a smartphone app, which in turn informs the wearer of developing risk.
"This is a significant medical problem that affects the lives of millions. We thought there must be a way to avoid these wounds altogether," said Danny Bavli, the group's lead engineer.
Bavli partnered with Sagi Frishman and Dr. David Morgenstern, a leading orthopedic surgeon at Hadassah Medical Center, to develop SenseGO. MBA students Inbal Boxerman and Yael Hadar also worked with the team.
"This is a classic mobile health approach," said Prof. Yaakov Nahmias, BioDesign program director. "By giving patients and their families the tools they need to prevent the development of ulcers, we can dramatically reduce healthcare costs related to diabetes."
Those costs are estimated at $10 billion in the United States alone. The cost in human suffering is incalculable.
"We are looking for interested investors to help develop the product further," Nahmias tells ISRAEL21c. "We are facing stiff competition from a similar project in Germany."
In general, medical devices take three or four years to reach the market, he adds.
BioDesign: Medical Innovation is a multidisciplinary, team-based approach to medical innovation. Sponsored by Boston Scientific and the Terumo Medical Corporation, the program takes outstanding medical fellows, bioengineering and business graduate students, and tutors them in the science and practice of bringing a medical innovation to the market.
The program is led by Nahmias, who also directs the Alexander Grass Center for Bioengineering at the Hebrew University of Jerusalem; and Prof. Chaim Lotan, director of the Heart Institute at Hadassah Medical Center.
Innovations produced by BioDesign  program participants are commercialized by Yissum, the technology transfer company of the Hebrew University of Jerusalem, and Hadasit, the technology transfer company of Hadassah Medical Center.