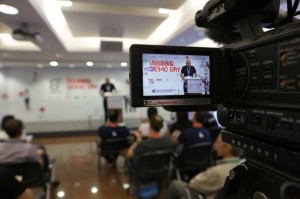 Israel is a country in which military service is associated as much with advanced technology as it is with warfare. This is particularly true in the IDF's Intelligence Corps, most notably Unit 8200, which is responsible for collecting signal intelligence and code decryption.
Because so many 8200 veterans spend their army years thinking outside the box and wind up in the highest echelons of high-tech, this unit has become virtually synonymous with the term "startup nation." And for four years running, there has been a startup accelerator named after it.
8200 EISP (Entrepreneurship and Innovation Support Program) is the first and only accelerator in Israel that is a non-profit organization.
Though established in 2010 by the 8200 Alumni Association, the accelerator is aimed at cultivating what program manager Guy Katsovich calls "Israeli innovators of all stripes, not only those who served in 8200, or even in the army at all, such as Arabs and haredim [ultra-Orthodox Jews]. Only 20 percent of the people who have gone through the program are 8200 alumni."
He is also proud to point out that 30% of the program's graduates are women, "which is higher than the overall benchmark in the business."
Katsovich, 27, who served for five years in 8200, tells ISRAEL21c that the philosophy behind the program is to promote early-stage, first-time entrepreneurs in any and all fields.
Program manager Guy Katsovich served in Unit 8200 for five years.
Program manager Guy Katsovich served in Unit 8200 for five years.
"Harnessing the extensive and tight-knit network of 8200 veterans is a great way of accomplishing this," Katsovich explains, stressing that the accelerator utilizes 8200 connections to foster entrepreneurship, not the other way around.
Alumni of the program include Carambola, Lacoon Secu-rity, Zipory, Desti, WireX Systems, Gene-raytor, Next-Peer, Storee, Medasense and Evolero.
Not all participants are techies. One example is the Israeli theater troupe Tziporela.
Aiming at becoming to theater what Cirque du Soleil is for dance, the troupe went through the program to learn how to break into the market in New York "without relying on agents who would get them a gig or two," says Katsovich.
"They took part in the program; ended up raising $400,000 from a private investor; and they have just finished a road show on Broadway, with sold-out shows and amazing reviews".
A very personal thing
Every year, 8200 EISP accepts 20 participants from among hundreds of applicants. These range from entrepreneurs at the idea stage to those who have already raised a small amount of seed money for their startups.
The chosen entrepreneurs spend five months – between January and July – undergoing intense workshops and training in every aspect of startup building. They are given seminars in marketing, finance, fundraising and the accompanying legal ins and outs they will encounter, as well as introductions to potential investors.
The program's funders — Bank Hapoalim; Ernst & Young Israel; law firms Naschitz-Brandes-Amir and Pearl-Cohen-Zedek-Latzer-Baratz; the BRM Group; Battery Ventures; AOL Israel and Nextage — are active throughout the process, providing their knowhow in all of the above.
Having just moved into the brand-new WeWork co-working building in the heart of Tel Aviv, 8200 EISP gives each program participant a workspace and computer in a large, beautifully designed glass room with high ceilings.
Only 20 participants are selected for each five-month cohort.
Only 20 participants are selected for each five-month cohort.
"We see this enterprise as a very personal thing," says Katsovich. "So we make the atmosphere personable."
The project culminates in a "Demo Day," when graduates present their startup proposals to a 300-strong audience of potential investors.
The follow-up statistics, which were gathered in September, are impressive.
"Of the 75 innovators who went through our program, about 50 are still leading startups," says Katsovich. "Altogether they have raised approximately $60 million, and employ 350 workers in Israel and abroad."
Giving back to society
Katsovich came to head the 8200 EISP program in 2013, after working in marketing and business development at Veribo, a reputation-management startup to promote brands and individuals on Google.
This was following a two-year stint as a financial reporter and editor at Globes, where he was also involved in the development side of the newspaper.
In parallel to both jobs, he kept busy with a non-profit organization that he and four other 8200 alumni founded — called "Wize" – to encourage the study of and work in the sciences.
Wize received a large grant from the Trump Foundation for "Martzim al Habar" ("Lecturing on the Bar"), where experts in different scientific fields give lectures at pubs and other night-life venues across the country. It is perhaps not surprising, in an age in which "geek" is the new "cool," that these series are widely popular.
Katsovich, who says it is very fulfilling to use what he learned in the army to give a push to young entrepreneurs, concludes: "It's all about giving back to Israeli society."